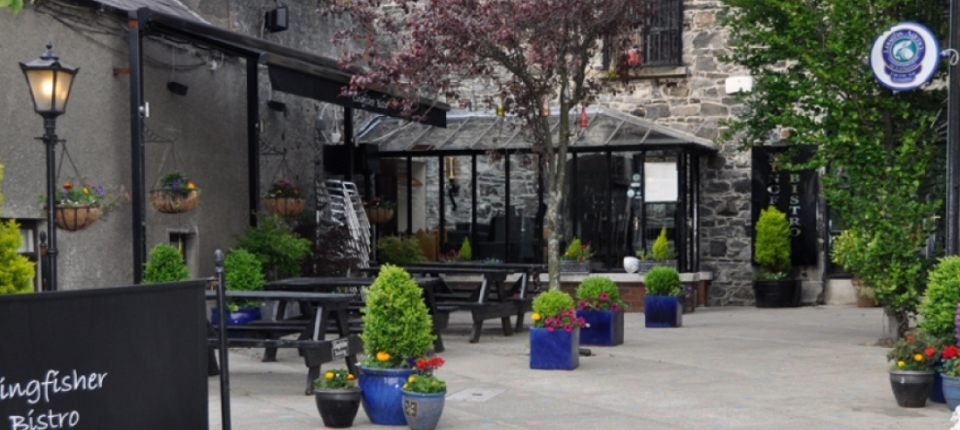 KINGFISHER BISTRO
Kingfisher Bistro in Darcy McGee Courtyard, Carlingford was established in 1998 by brother and sister team Mark and Claire Woods. The secret to their success is top quality, locally sourced ingredients cooked to perfection. After 15 years in business the restaurant has gathered a terrific following and although small, comfortably seating 42, it packs a mighty punch. Thanks to the variety Mark creates in his kitchen and how well Claire manages the service, Kingfisher Bistro is widely praised for producing what many regard as the most exciting food in the area.
Guests will thrill to their modern menus beginning with a "Pork Spring Roll, Hoi sin, pepper coulis, and basil oil" or any selection of eleven starters "Confit of Duck leg, noodle rosti, roast chorizo oil and sweet soy", "Tomato and Basil tagliatelle with fresh parmesan in a white wine sauce", and "Fried crab cakes with pepper coulis, basil mayonnaise and house salad". The local mussels simmered slowly in the finest of cream and white wine with a hint of garlic are particularly popular and there are a number of main courses dressed up old favorites such as sirloin steak (with potato rösti, garlic & parsley butter and onion sauce) alongside more innovative ideas like "Thai spiced pork with sticky rice, curry oil, sweet soy & Asian salad". Try the fish specials, cooked so delicately that delicious is the only way to describe them. There are also quite a few vegetarian dishes, usually including the house special.
Desserts are now something of a specialty (see their mouthwatering menu above) and the wine list is another pleasant surprise – although it is not long by some standards, it is certainly interesting, varied and fairly priced. Value is a priority and we are proud of our fair minimum charge and reasonable prices on the menu. We have something to suit everyone from families, couples and groups to someone popping in for a quick bite.